Let's face it, SEO is one of the most profitable ways to grow your business and brand. But…the stakes are extremely high. Businesses that nail SEO have waves of new customers buying their products and services every single year, without paying a dollar in marketing.
This is why everyone goes on and on about how important SEO is for any business.
This is where SEO tools make a huge difference, whether you need to perform keyword research, audit your website, do competitive research, or just want to see how well you rank on Google, there are some great tools to help you do just that.
In this post, we rank and compare all of the best SEO tools like SEMrush, SpyFu, Ahrefs, Moz.
Want to save time and get right to the best SEO Tool now? Our favourite is SEMrush, it is the best all-round SEO tool for businesses of all sizes, giving you everything you need to dominate SEO for your business but also research your competitors.
When picking the SEO tool, there are hundreds of different choices to compare.
Each one provides different levels of features, performance, ease of use, and price ranges – not to mention different discounts and savings at checkout.
Let's get to the list.
What Are The Best SEO Tools?
So, here are our favourite picks for the best SEO tools to use this year.
Best All-Round SEO Tool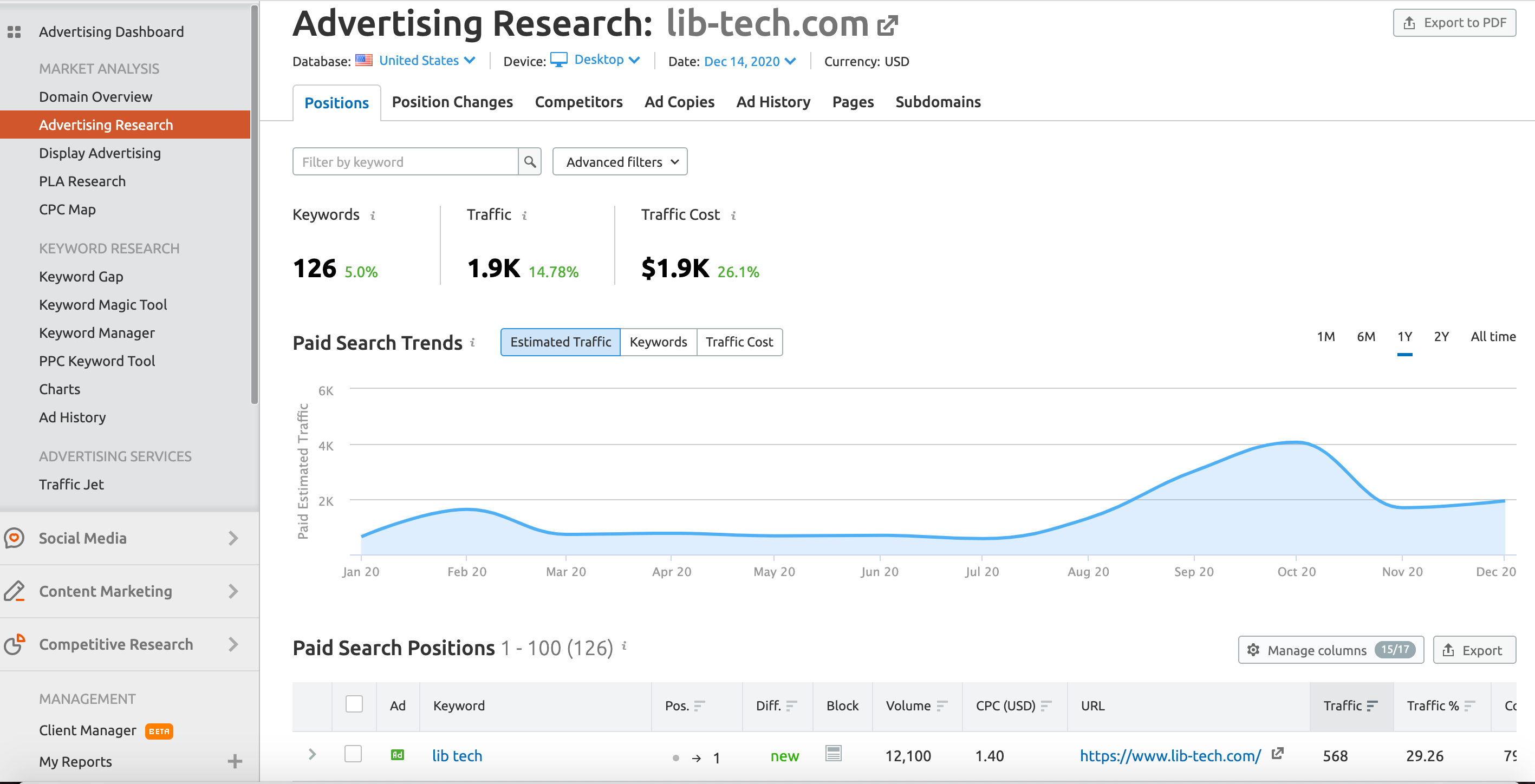 Businesses of all sizes love SEMrush and it's really easy to see why!
SEMrush is a powerful and versatile SEO toolkit that offers businesses of all sizes a suite of tools to improve their search engine optimization. 
SEMrush is easy to use and provides detailed insights into your website's performance. You can use SEMrush to track your rankings, find keywords, spy on your competitors, do on-page optimization, and much more.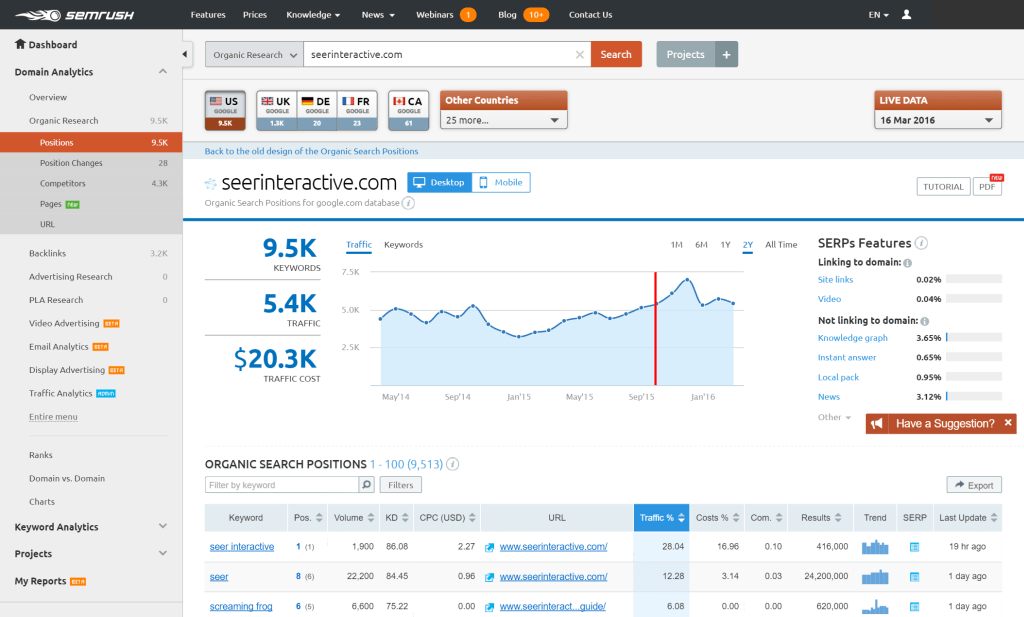 Plus, SEMrush has a great support team that is always available to help you with any questions you may have.
This makes a huge difference, when you've got your own business to run you just can't waste time with unresponsive or outsource customer support teams.
One area that SEMrush stands out in is its comprehensive keyword research capabilities. 
The Keyword Magic Tool allows users to find both high-volume and low-competition keywords, and the Keyword difficulty tool helps users assess how difficult it would be to rank for a given keyword.
SEMrush Key Features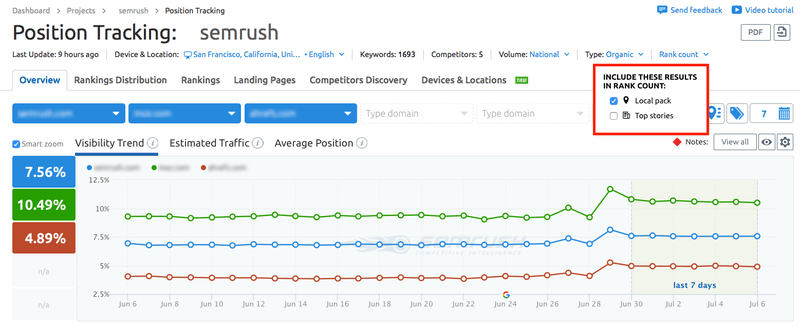 SEMrush also offers a host of features designed to help businesses improve their SEO, including: 
Website Audit

- An audit tool that analyzes your website's architecture and provides recommendations on how to improve your site's SEO.

On Page & Technical SEO Checker

- A tool that analyzes your website's on-page SEO and technical SEO settings and provides recommendations on how to optimize your site.

Position Tracking

- A tool that tracks your website's ranking in Google and other search engines for specific keywords.

Backlink Audit

-  A tool that analyzes your website's backlink profile and identifies potential problems with your link building strategy.
​​
If you're looking for an all-in-one solution to help boost your business's SEO efforts, SEMrush is definitely for you.
SEMrush Pricing
SEMrush is one of the most affordable SEO tools on the market, with its plans starting at $119. All plans come with a free trial & all paid plans have a 7-day money back guarantee, so you can give it a try without worrying about over-committing.
Best For Bloggers & Content Marketing Teams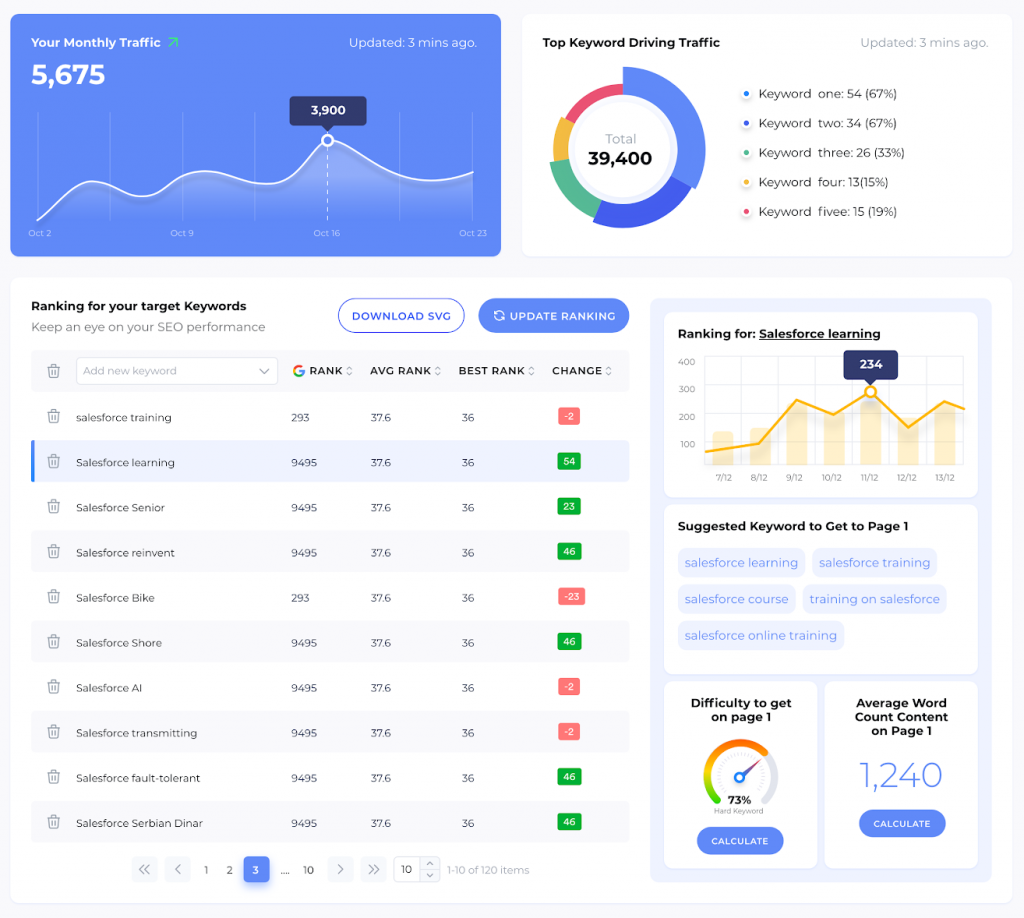 GrowthBar is the number #1 SEO tools for bloggers & content marketing teams. It's really easy to see why, it has absolute everything you need to rank number one on Google search, we're talking:
An AI Blog Content Writer

Keyword Research Tool

Keyword Rank Tracking

Competition Analysis Tools
GrowthBar is one of the easiest SEO tools to use, allowing you to see all your SEO data, have a peek at your competitors' SEO data and create the perfect blog post in just one click.
The best part about GrowthBar is that it is constantly updated with the latest algorithms and trends, so you can be sure that you are always using the best possible tools for your SEO campaigns. 
Another great thing about GrowthBar is that it offers a free trial, so you can try out all of its features before committing to a paid plan. 
If you are serious about ranking your website on the first page of Google, then GrowthBar is definitely the best SEO tool for you!
GrowthBar Key Features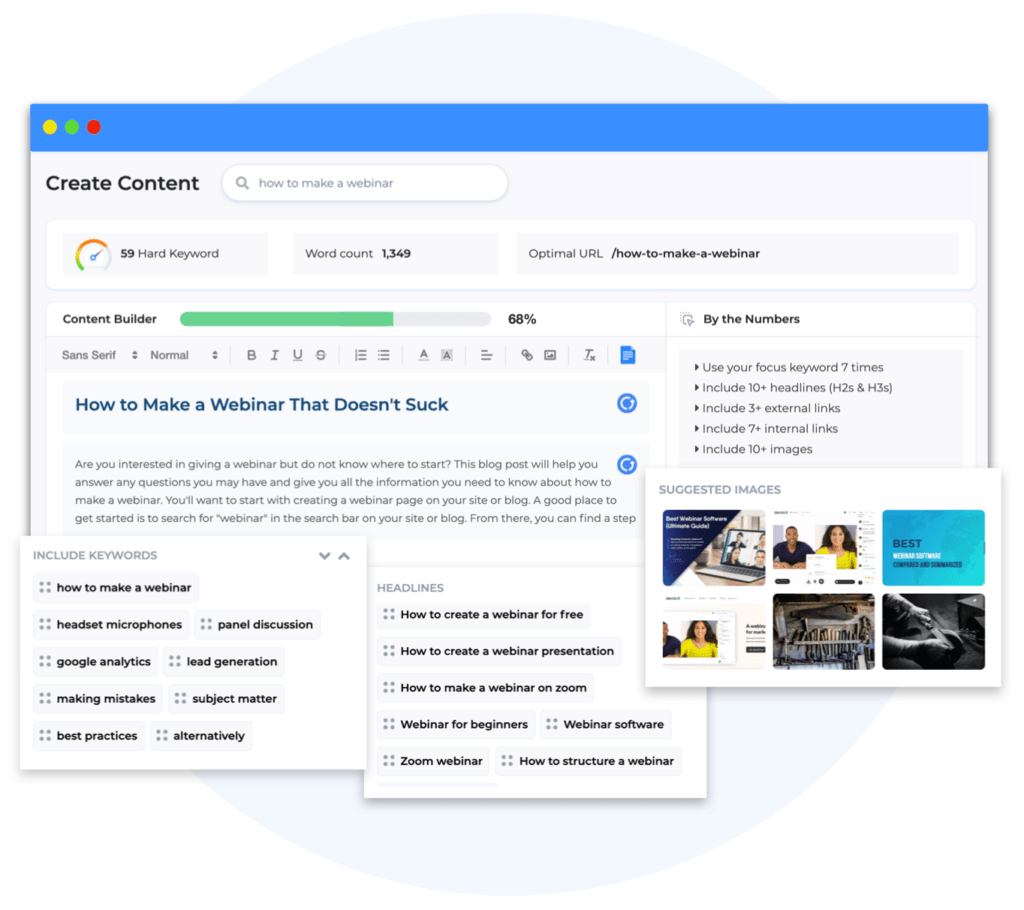 Comprehensive Website Audit -

Find out exactly how you can improve your website to help it rank on the first page of Google

A.I Content Generation -

Create the perfect blog posts and ad headline in seconds by clicking a single button

Competitor Metrics -

See exactly what keywords your competitor is ranking for and how you can beat them
GrowthBar Pricing
At only $29 a month, GrowthBar has to be the most affordable and powerful SEO tool, allowing you to track up to 24 keywords on one site using their Standard Plan.
Oh and here is a 5-day free trial that allows you to try GrowthBar without committing!
Best All-Round Competitor Research Tool
SpyFu is one of the best SEO tools available because it offers detailed insights into your competitor's SEO and PPC strategies.
With SpyFu, you can see which keywords your competitors are bidding on and how much they're spending. You can also see what their organic search rankings are for those keywords. This information is invaluable when trying to craft your own SEO and PPC strategy. 
Another reason SpyFu is so good is that it offers a free trial period. This allows you to test out the features and decide if it's right for your business before committing to a paid subscription. 
If you're serious about improving your SEO and PPC game, then SpyFu is definitely worth checking out.
SpyFu Key Features
Easy Competitor Monitoring -

Keeps track of your existing and new competitors and their PPC strategies.

Google Ads Optimizer -

Suggests profitable & useful keywords by analyzing the campaigns run by your competitors.

In-depth PPC & Google Search Keyword Discovery -

Discover untouched keywords that drive new sales for your business.

Influencer Marketing Insights - I

f you are looking to invest in influencer marketing, Spyfu has a range of useful tools and databases
SpyFu Pricing
SpyFu is really affordable, starting at just $39 a month for their basic plan. This gives you virtually everything you need to improve your SEO & monitor your competitors.
Best For Deep Data Analysis (Data Nerds)
One that we definitely can't leave off the list is Ahrefs! It is the favourite SEO tool for most seasoned SEO pros, giving us a wealth of data and competitive metrics. If you love data and digging into the details, Ahrefs is for you.
If you just want something simple so you can focus on your main business, I wouldn't touch Ahrefs. SEMrush & GrowthBar a both much better choices.
Ahrefs is a comprehensive SEO tool that covers all the important aspects of search engine optimization. It has a large database of over 12 billion pages and an extensive set of features that allow you to research your competitors, find new keywords, track your rankings, and much more.
In addition to its core SEO features, Ahrefs also provides some useful tools for social media marketing and content marketing. Overall, it's an incredibly powerful tool that can help you take your business to the next level.
If you're serious about search engine optimization, then Ahrefs is definitely worth checking out. It offers a free trial so you can try it before you buy it, which is always a good idea. Once you see how much Ahrefs can help you, you'll probably be hooked for life.
Ahrefs Features
Site Explorer

- This tool allows you to see an overview of your website's health, including information on your backlinks, organic traffic, and more.

Content Explorer

- With this tool, you can research the best content for your niche and see what's working well for other websites.

Keyword Explorer -

This tool helps you find the best keywords to target for your SEO efforts.
Ahrefs Pricing
Ahrefs Lite plan has virtually everything you will need to improve your SEO, discover new keyword opportunities and monitor your competitors. The Lite plan is $74 a month, if you pay annually you get 2 months free